Friese Tjalk 1000 AK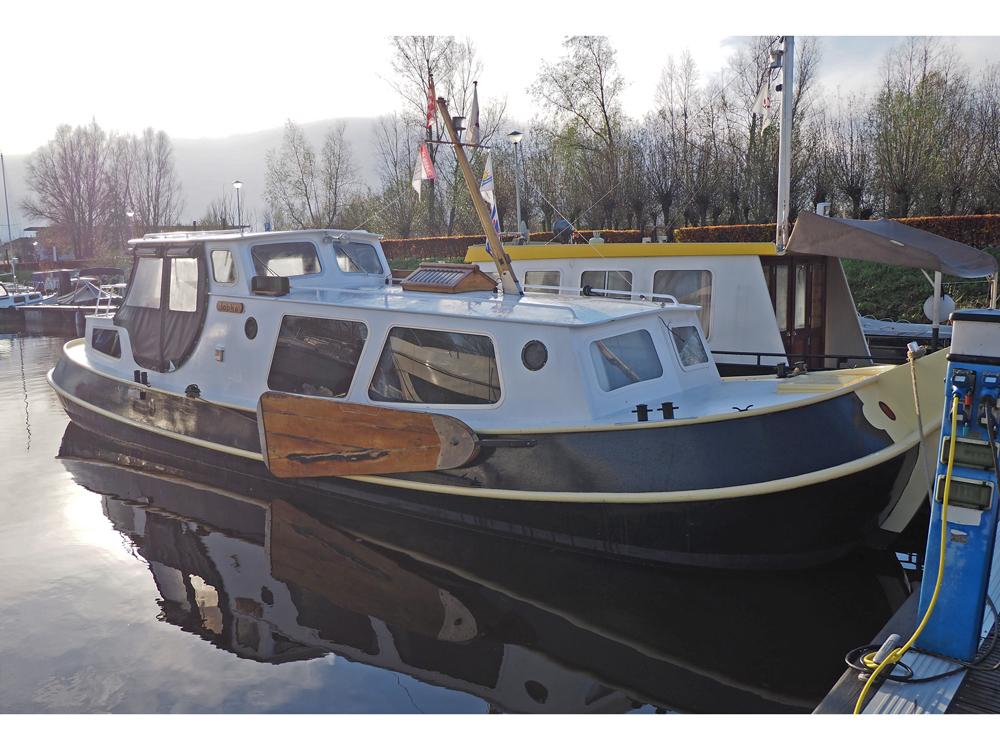 headingdetails Friese Tjalk 1000 AK
€ 29,500
Sleeping places
4 + 2
year built
1934
Berth
Etten Leur
Category
Motor yacht
Contactperson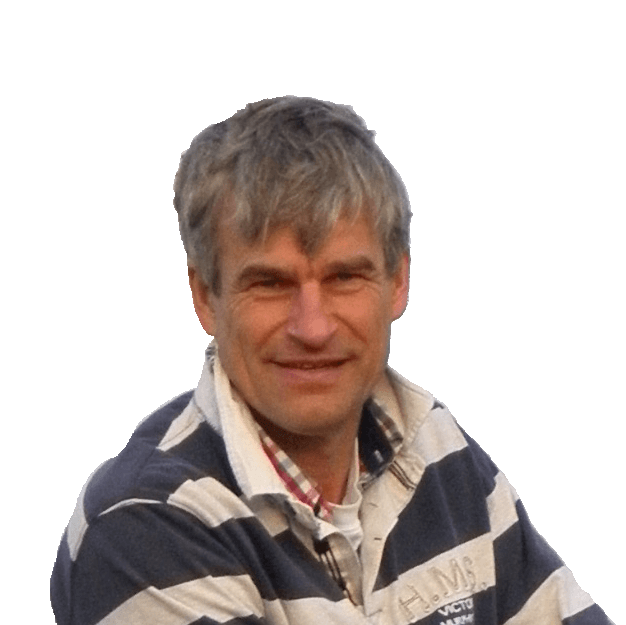 Willem Beekhuis
+316-19730566
Shore power, heating, boiler, inverter, etc. Nice and surprisingly spacious tjalk. Is in beautiful condition.
Dimensions
10,00 x 2,80 x 0,70 m.
Engine
Mitsubishi 33 HP (24 kW) Diesel
Construction material
Steel
Reference number
212067
Construction material

Steel

Hull shape

Flatbottom

Deck

Steel non skid

Superstructure

Steel

Keel / leeboard

Oak sideboard keels

Rudder

1 x

Steeringsystem

Mechanic wheel steering

Windows

Hora windows with tinted glass in aluminium frames (2007)

Displacement

9,300 kg.

Airdraft

2.20 m.

Yard

Yachtcharter Noordmans, Terkaple (Conversion to motor yacht)
This Friese Tjalkje is a historic commercial vessel built in 1934. In 1980 she was converted into a motor yacht and was rented out until 1997. The hull has remained original (possibly shortened), the decks and the superstructure were installed at that time. A Mercedes OM636 was installed in 1980, which was replaced in 2005 by a very reliable Mitsubishi diesel. The Hora windows were installed in 2007.
In 2021 the superstructure was painted, in 2020 the conservation of the inside of the hull was renewed.
This surprisingly spacious Friese Tjalkje is in a very good condition and is ready for years of sailing pleasure.
---
Material

Mahogany interior

Saloons

Half open wheel house, Saloon, Aft cabin

Cabins

2

Berth

4 + 2

Headroom wheelhouse

1.85 m.

Headroom saloon

1.85 m.

Headroom aftcabin

1.53 m.

Bedsize aftcabin

1.90 x 0.82 m. (2 x)

Bedsize saloon

Front: 2.05 x 1.20 m.; Long benches: 2.00 x 0.62 m. (portside and starboard)

Toilet

Toilet room with a chemical toilet and sink

Television

With DVD player

Radio

Kenwood radio-CD player

Cooking device

4 - Flame gas cooker

Refridgerator

Electrolux 89 litres

Heating

Trumatic hot air heating
---
Brand / type

Mitsubishi S4F

Power

33 HP, 24 kW

Number of cylinders

4

Cooling system

Closed cooling

Year built

2005

Hours

860

Fuel

Diesel

Fueltank(s)

2 x 100 Litres steel

Tank meter

Yes

Gearbox

Hurth mechanic

Propulsion

Shaft

Thrust bearing

Yes

Cruising speed

5.5 Kn.

Max. speed

6.5 Kn.

Instruments

Motometer tachometer, VDO oilpressure (not operational)
---
Voltage

12 and 220 Volt

Batteries

2 x 90 Ah

Shorepower

With earth leakage switch

Alternator

1 x 12 Volt

Batterycharger

Ultimate Speed ULG 3.8 A1 3.8 A.

Inverter

500 W.

Control panel

Switch panel

Voltmeter

2 x
---
Watertank(s)

250 Litres stainless steel

Waterpressure system

Electric

Warm water

Approx. 40 litres water heater (heated over engine)

Freshwater meter

Yes
---
Anchor

1 x

Schwimming ladder

Aluminium

Cover

Round wheel house

Winter cover

Round wheel house
---
Bilge pump

Electric

Wiper

2 x

Fire prevention

2 x Fire exringuisher

Gas locker

Suitable for 1 bottle
---
View in 360 degrees
{"id":7569,"editor":{"selected_shape":"poly-4124","tool":"select","shapeCounter":{"rects":4,"polys":7}},"general":{"name":"FrieseTjalk1000AK","shortcode":"FrieseTjalk1000AK","width":964,"height":643,"naturalWidth":964,"naturalHeight":643},"image":{"url":"https://www.waterrecreatiesyperda.nl/data/ab/artikelen/artikel-details/TJALK_HOUVOL_-_13_personen.png"},"tooltips":{"fullscreen_tooltips":"none"},"spots":[{"id":"rect-7019","title":"Rect 0","type":"rect","x":42.388,"y":30.368,"width":0.129,"height":-0.193,"x_image_background":42.388,"y_image_background":30.368,"width_image_background":0.129,"height_image_background":-0.193,"default_style":{"border_radius":10},"mouseover_style":{"border_radius":10},"tooltip_content":{"squares_settings":{"containers":[{"id":"sq-container-403761","settings":{"elements":[{"settings":{"name":"Heading","iconClass":"fa fa-header"},"options":{"heading":{"text":"Rect 0"}}}]}}]}}},{"id":"rect-7405","title":"Rect 2","type":"rect","x":40.711,"y":29.014,"width":20.901,"height":8.704,"x_image_background":40.711,"y_image_background":29.014,"width_image_background":20.901,"height_image_background":8.704,"default_style":{"border_radius":10,"background_color":"#ffffff","background_opacity":1},"mouseover_style":{"border_radius":10,"background_opacity":1},"tooltip_content":{"squares_settings":{"containers":[{"id":"sq-container-403761","settings":{"elements":[{"settings":{"name":"Heading","iconClass":"fa fa-header"},"options":{"heading":{"text":"Rect 2"}}}]}}]}}},{"id":"rect-7159","title":"Rect 3","type":"rect","x":82.254,"y":24.178,"width":0,"height":-0.193,"x_image_background":82.254,"y_image_background":24.178,"width_image_background":0,"height_image_background":-0.193,"default_style":{"border_radius":10},"mouseover_style":{"border_radius":10},"tooltip_content":{"squares_settings":{"containers":[{"id":"sq-container-403761","settings":{"elements":[{"settings":{"name":"Heading","iconClass":"fa fa-header"},"options":{"heading":{"text":"Rect 3"}}}]}}]}}},{"id":"poly-4124","title":"Poly 0","type":"poly","x":61.224,"y":39.846,"width":35.866,"height":29.206,"x_image_background":76.835,"y_image_background":39.846,"actions":{"click":"run-script","script":"https://www.beekhuisyachtbrokers.com/upload/aanbod360/friese-tjalk-1000-ak/Salon 2.JPG"},"default_style":{"background_color":"#66aaff","background_opacity":1},"mouseover_style":{"background_opacity":1},"tooltip_content":{"squares_settings":{"containers":[{"id":"sq-container-421221","settings":{"elements":[{"settings":{"name":"Heading","iconClass":"fa fa-header"},"options":{"heading":{"text":"Salon/saloon"}}}]}}]}},"points":[{"x":0,"y":0},{"x":77.6980482981846,"y":0},{"x":90.647430948151,"y":8.609556037646552},{"x":97.84163616822268,"y":25.165467388624297},{"x":100,"y":49.66813803979351},{"x":97.12238905336658,"y":75.49773333569108},{"x":88.48951175009442,"y":94.04296208199204},{"x":74.46059147726281,"y":100},{"x":0.7193360416002424,"y":98.01596092480146}]},{"id":"poly-7586","title":"Poly 1","type":"poly","x":43.291,"y":39.543,"width":17.675,"height":29.123,"x_image_background":43.291,"y_image_background":39.543,"actions":{"click":"run-script","script":"https://www.beekhuisyachtbrokers.com/upload/aanbod360/friese-tjalk-1000-ak/Salon 1.JPG"},"default_style":{"background_color":"#66aaff","background_opacity":1},"mouseover_style":{"background_opacity":1},"tooltip_content":{"squares_settings":{"containers":[{"id":"sq-container-79861","settings":{"elements":[{"settings":{"name":"Heading","iconClass":"fa fa-header"},"options":{"heading":{"text":"Salon/saloon"}}}]}}]}},"points":[{"x":0,"y":40.226185417389004},{"x":54.712920738745616,"y":40.277461762579186},{"x":55.06462876354218,"y":0},{"x":99.26997986169461,"y":1.0404756535146487},{"x":100,"y":99.33676570778248},{"x":0.7292983363833095,"y":100}]},{"id":"poly-7840","title":"Poly 2","type":"poly","x":43.162,"y":40.039,"width":9.547,"height":11.025,"actions":{"click":"run-script","script":"https://www.beekhuisyachtbrokers.com/upload/aanbod360/friese-tjalk-1000-ak/Toiletruimte.JPG"},"default_style":{"background_color":"#ffaa00","background_opacity":1},"mouseover_style":{"background_opacity":1},"tooltip_content":{"squares_settings":{"containers":[{"id":"sq-container-361961","settings":{"elements":[{"settings":{"name":"Heading","iconClass":"fa fa-header"},"options":{"heading":{"text":"Toiletruimte/toilet room"}}}]}}]}},"points":[{"x":0,"y":0},{"x":99.99983296120737,"y":0},{"x":99.86260025476409,"y":87.72500037138268},{"x":100,"y":100},{"x":1.3510240456091354,"y":98.2469757036984}]},{"id":"poly-4171","title":"Poly 3","type":"poly","x":25.358,"y":39.653,"width":17.675,"height":29.4,"actions":{"click":"run-script","script":"https://www.beekhuisyachtbrokers.com/upload/aanbod360/friese-tjalk-1000-ak/Stuurhuis.JPG"},"default_style":{"background_color":"#bb5500","background_opacity":1},"mouseover_style":{"background_opacity":1},"tooltip_content":{"squares_settings":{"containers":[{"id":"sq-container-571141","settings":{"elements":[{"settings":{"name":"Heading","iconClass":"fa fa-header"},"options":{"heading":{"text":"Stuurhuis/wheel house"}}}]}}]}},"points":[{"x":0,"y":0},{"x":98.54014335109359,"y":1.9703396716300052},{"x":100,"y":100},{"x":0.7286651738386046,"y":98.68561344070311}]},{"id":"poly-2557","title":"Poly 5","type":"poly","x":18.133,"y":58.221,"width":1.548,"height":26.306,"tooltip_content":{"squares_settings":{"containers":[{"id":"sq-container-403761","settings":{"elements":[{"settings":{"name":"Heading","iconClass":"fa fa-header"},"options":{"heading":{"text":"Poly 5"}}}]}}]}},"points":[{"x":100,"y":100},{"x":0,"y":0}]},{"id":"poly-5638","title":"Poly 6","type":"poly","x":6.521,"y":39.459,"width":18.578,"height":29.594,"x_image_background":6.521,"y_image_background":39.459,"actions":{"click":"run-script","script":"https://www.beekhuisyachtbrokers.com/upload/aanbod360/friese-tjalk-1000-ak/Achterkajuit.JPG"},"default_style":{"background_color":"#ff0000","background_opacity":1},"mouseover_style":{"background_opacity":1},"tooltip_content":{"squares_settings":{"containers":[{"id":"sq-container-403801","settings":{"elements":[{"settings":{"name":"Heading","iconClass":"fa fa-header"},"options":{"heading":{"text":"Achterkajuit/aft cabin"}}}]}}]}},"points":[{"x":99.3054691204282,"y":0},{"x":100,"y":99.34548758658455},{"x":37.49994635061059,"y":100},{"x":17.36104017469622,"y":89.54244196659867},{"x":2.7777801621950813,"y":70.58863437298676},{"x":0,"y":50.98019671843136},{"x":2.083249282623257,"y":28.757885897453576},{"x":17.360782657627077,"y":10.456642997073367},{"x":38.194133874090205,"y":0.0024640621116213146}]}]}
Achterkajuit (11.62Mb)
Salon (11.76Mb)
Salon (11.66Mb)
Stuurhuis (10.4Mb)
Toiletruimte (11.86Mb)
Berth