Phantom 35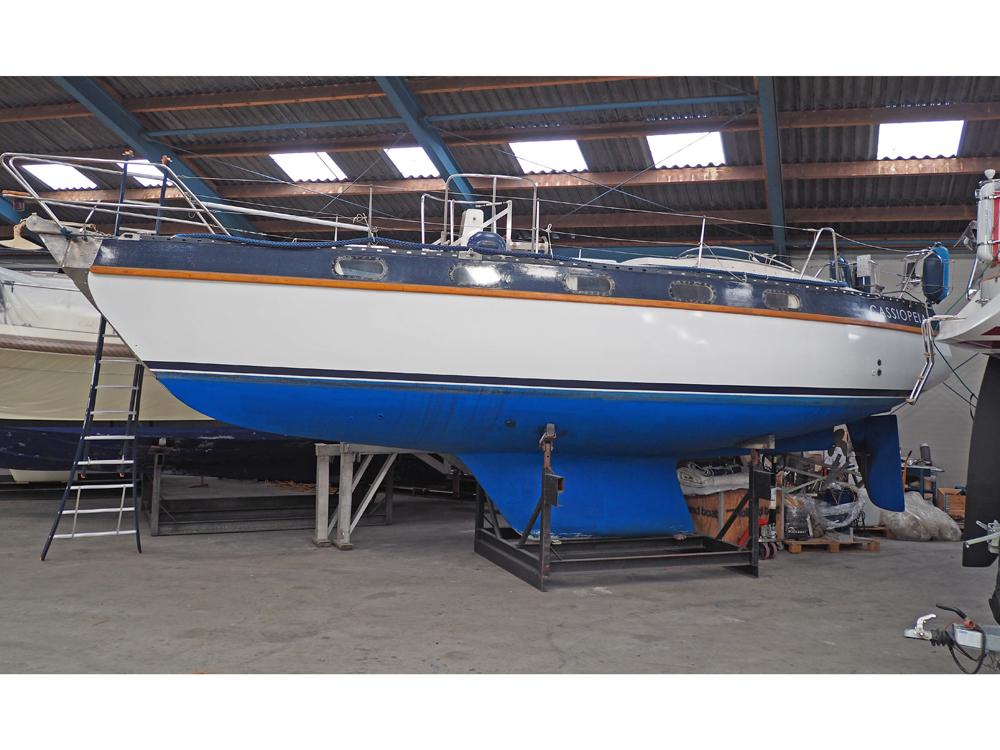 headingdetails Phantom 35
€ 22,500
Sleeping places
3 + 3
year built
1978
Berth
Workum
Category
Sailing yacht
Contactperson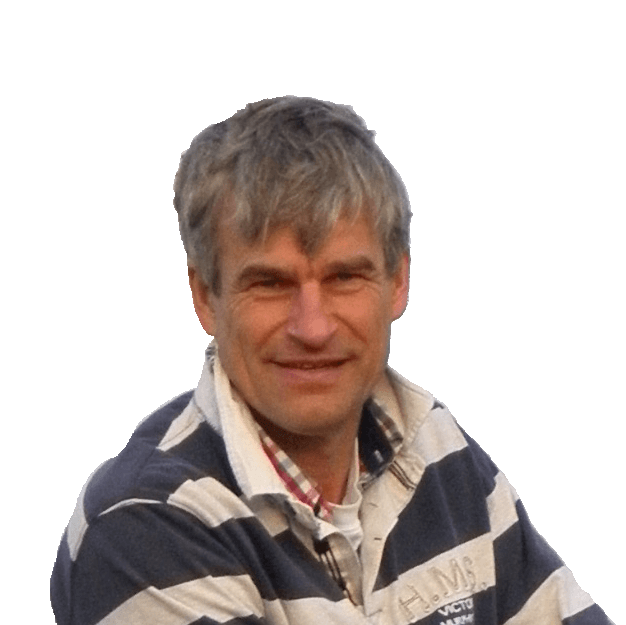 Willem Beekhuis
+316-19730566
Vetus 4 cylinder diesel from 2009. Shore power, autopilot, windlass, etc. Very neat Phantom 35.
Dimensions
10,65 x 3,25 x 1,50 m.
Engine
Vetus 33 HP (24 kW) Diesel
Construction material
GRP
Reference number
211013
Construction material

GRP

Hull shape

Round bilged

Deck

GRP non skid

Superstructure

GRP

Keel / leeboard

Fin keel

Steeringsystem

Tiller

Windows

Perspex screwed

Displacement

6,500 kg.

Ballast

2,500 kg.

Airdraft

15.00 m.

Yard

Phantom Yachtbau Genzel, Germany

Designer

Heribert Streuer
Due to the Flushdeck concept, the Phantom 35 is a very spacious and comfortable sailing yacht with a headroom of 1.90 m. The Phantom 35 is extremely suitable for sea voyages.
This Phantom 35 is in good condition and is equipped with a strong 4-cylinder diesel engine from 2009 with only 600 operating hours.
---
Material

Teak, Kambala, Hemlock interior

Saloons

Saloon with quarterberth, Fore ship

Cabins

2

Berth

3 + 3

Headroom

1.90 m.

Bedsize front cabin

2.05 x 0.70 m. (2 x) or 2.05 x 1.95 m.

Bedsize saloon

2.05 x 1.10 m. (portside); 2.05 x 0.85 m. (starboard); Quarterberth: 1.90 x 0.90 m.

Toilet

Toilet room with a pump toilet and sink

Cooking device

Eno 2 - flame gas cooker

Refridgerator

Engel 59 litres
---
Brand / type

Vetus M4.15

Power

33 HP, 24 kW

Number of cylinders

4

Cooling system

Intercooling

Year built

2009

Hours

Approx. 600

Fuel

Diesel

Fueltank(s)

100 Litres stainless steel

Tank meter

VDO

Gearbox

Hurth mechanical

Propulsion

Shaft

Instruments

Vetus tachometer
---
Voltage

12 Volt

Batteries

1 x 85 Ah

Shorepower

With earth leakage switch

Alternator

1 x 12 Vot

Control panel

2 x Vetus fuse panel

Voltmeter

1 x Vetus, 1 x VDO

Ampère meter

VDO
---
Watertank(s)

110 Litres stainless steel

Waterpressure system

Electrical and foot pump
---
Type

Masthead rigged

Mast

Aluminium

Standing rig

8 mm. stainless steel; Under schroud 6 mm. stainless steel

Boom

Aluminium

Mastlowering system

Yes

Winches

2 x Sheet, 1 x Reefinf, 2 x Halyard

Sails material

Dacron

Mainsail

Segelmacher Latsch

Mainsail furling system

2 x Slab reef

Genoa furling system

Harken MK IV 1 (2019)

Genoa I

Bryt Sails

Genoa II

1 x , with slides

Jib

2 x, with slides

Storm jib

1 x, with slides

Halvewinder

Lee Sails

Spinnaker boom

Aluminium

Other

With Lazy-Jacks
---
Anchor

2 x

Anchorwinch

Mechanical

Railing

Stainless steel with stainless steel wire

Schwimming ladder

Stainless steel

Sprayhood

With a stainless steel frame

Selfdraining cockpit

Shut-off valves recently replaced
---
Life raft

6 - Persons (2012, must be inspected)

Bilge pump

1 x Hand, 1 x electrical

Fire prevention

Fire extinguisher

Gas locker

Suited for 2 bottles
---
View in 360 degrees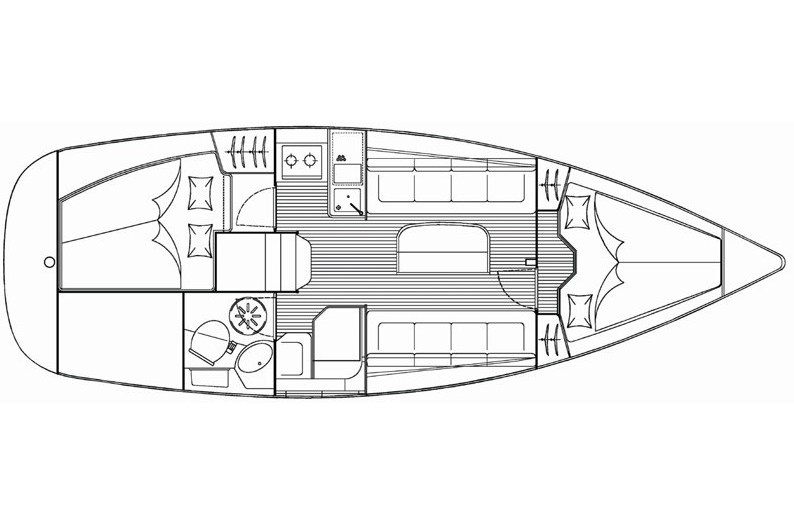 {"id":2762,"editor":{"tool":"select","shapeCounter":{"polys":7}},"general":{"name":"Phantom35","shortcode":"Phantom35","width":794,"height":528,"naturalWidth":794,"naturalHeight":528},"image":{"url":"https://zeilersforum.nl/mediawiki//images/6/62/Bavaria-30-cruiser-indeling.jpg"},"spots":[{"id":"poly-4326","title":"Poly 1","type":"poly","x":70.45,"y":31.141,"width":20.451,"height":37.137,"actions":{"click":"run-script","script":"https://www.beekhuisyachtbrokers.com/upload/aanbod360/phantom-35-1065/Voorschip.JPG"},"default_style":{"background_color":"#ff0000","background_opacity":1},"mouseover_style":{"background_opacity":1},"tooltip_content":{"squares_settings":{"containers":[{"id":"sq-container-541961","settings":{"elements":[{"settings":{"name":"Heading","iconClass":"fa fa-header"},"options":{"heading":{"text":"Voorschip/fore ship"}}}]}}]}},"points":[{"x":0,"y":0},{"x":42.13836477987421,"y":10.937454996929954},{"x":100,"y":32.81236499078988},{"x":99.37106918238993,"y":67.18722355256976},{"x":54.0880503144654,"y":85.41631521411972},{"x":0.63076808176103,"y":100}]},{"id":"poly-2319","title":"Poly 2","type":"poly","x":62.862,"y":28.24,"width":7.203,"height":43.133,"actions":{"click":"run-script","script":"https://www.beekhuisyachtbrokers.com/upload/aanbod360/phantom-35-1065/Toiletruimte.JPG"},"default_style":{"background_color":"#ffaa00","background_opacity":1},"mouseover_style":{"background_opacity":1},"tooltip_content":{"squares_settings":{"containers":[{"id":"sq-container-988181","settings":{"elements":[{"settings":{"name":"Heading","iconClass":"fa fa-header"},"options":{"heading":{"text":"Toiletruimte/toilet room"}}}]}}]}},"points":[{"x":0,"y":0},{"x":98.21425564628366,"y":5.829278748835193},{"x":100,"y":93.27350037175123},{"x":1.778843939909505,"y":100}]},{"id":"poly-737","title":"Poly 4","type":"poly","x":44.725,"y":24.758,"width":18.008,"height":49.903,"actions":{"click":"run-script","script":"https://www.beekhuisyachtbrokers.com/upload/aanbod360/phantom-35-1065/Salon 2.JPG"},"default_style":{"background_color":"#66aaff","background_opacity":1},"mouseover_style":{"background_opacity":1},"tooltip_content":{"squares_settings":{"containers":[{"id":"sq-container-67511","settings":{"elements":[{"settings":{"name":"Heading","iconClass":"fa fa-header"},"options":{"heading":{"text":"Saon/saloon"}}}]}}]}},"points":[{"x":0,"y":0},{"x":47.85404462648233,"y":1.551249601692352},{"x":98.57281871466775,"y":6.975648359185686},{"x":100,"y":93.02319659225013},{"x":52.14248873134451,"y":97.28764751917855},{"x":0.7177803452067261,"y":100}]},{"id":"poly-4603","title":"Poly 5","type":"poly","x":7.295,"y":24.372,"width":37.302,"height":50.677,"actions":{"click":"run-script","script":"https://www.beekhuisyachtbrokers.com/upload/aanbod360/phantom-35-1065/Salon 1.JPG"},"default_style":{"background_color":"#66aaff","background_opacity":1},"mouseover_style":{"background_opacity":1},"tooltip_content":{"squares_settings":{"containers":[{"id":"sq-container-172211","settings":{"elements":[{"settings":{"name":"Heading","iconClass":"fa fa-header"},"options":{"heading":{"text":"Salon/saloon"}}}]}}]}},"points":[{"x":64.82628018088984,"y":0},{"x":99.65517936073998,"y":0.7628285036637595},{"x":100,"y":100},{"x":60.6884325097692,"y":98.85495571350383},{"x":24.482265387463706,"y":95.41982285401525},{"x":0,"y":90.83964570803049},{"x":0.34548686147015684,"y":59.541768543801375},{"x":63.79282557040209,"y":60.68597694796841}]},{"id":"poly-708","title":"Poly 6","type":"poly","x":7.424,"y":24.564,"width":23.924,"height":30.367,"x_image_background":7.424,"y_image_background":24.564,"default_style":{"background_color":"#ffffff","background_opacity":1},"mouseover_style":{"background_opacity":1},"tooltip_content":{"squares_settings":{"containers":[{"id":"sq-container-260101","settings":{"elements":[{"settings":{"name":"Heading","iconClass":"fa fa-header"},"options":{"heading":{"text":"Kuip/cockpit"}}}]}}]}},"points":[{"x":0,"y":14.651280804490202},{"x":45.162620707747394,"y":5.095612480199561},{"x":100,"y":0},{"x":98.92369815219664,"y":100},{"x":2.1536673100219654,"y":97.45219375990021}]}]}
Salon (11.98Mb)
Salon (11.8Mb)
Toiletruimte (12.96Mb)
Voorschip (11.58Mb)
Berth