Sell your yacht through Beekhuis Yachtbrokers
Transparency of costs
Beekhuis Yachtbrokers work for a predetermined fixed fee. The height of the fee depends on the price category of the motor yacht or sailing yacht.
We work on a "No Cure No Pay" base. This means: no sales, no costs!
Certainty
The purchase price, divided over a down payment and the remaining payment, will be paid into the bank account number of the Stichting Beheer Derdengelden Hiswa Recron (thrust account).
This means that the funds are managed on neutral territory and not on a trust account of the broker himself! This is to ensure the successful completion of the purchase / sale transaction.
For registered motor yachts and sailing yachts, the possibility of settlement by the notary remains.
Full-service
Beekhuis Yachtbrokers doesn't have a sales harbour, but we offer the same full-service at the own berth. We keep your motor yacht or sailing yacht ready for sale, e.g. by cleaning it both inside and outside.
We are always present during an visit of your yacht with potential buyers. Your presence here is not necessary. We have already made contact with a potential buyer before the actual visit and thus we know what will be the right approach.
As the owner you will be involved at a later stage in the sales process. You can think about presence at the sea trial and / or survey.
Realistic
We are looking forward to meet you on board your motor yacht or sailing yacht.
On board we discuss the realistic price level of your motor yacht or sailing yacht in the present market. We also work out a sales strategy for your yacht.
We don't believe in a price indication from a photo.
Advertising
Beekhuis Yachtbrokers advertises with your yacht on the following internet sites for a worldwide coverage (click on the logo for the site):

Boat shows
Beekhuis Yachtbrokers has its own stand at BOOT Holland 2022. Unfortunately this was cancelled, on to the 2023 edition.
We also rent a wall on the Yachtfocus stand at a number of trade fairs. We present our full offer here. BOOT Düsseldorf and the Hiswa te Water are on the program for 2023.
Sponsoring
​​Since September 2015, we sponsor the biggest sports club in the North of the Netherlands: fieldhockey club GHBS. We do this with a billboard along the main field.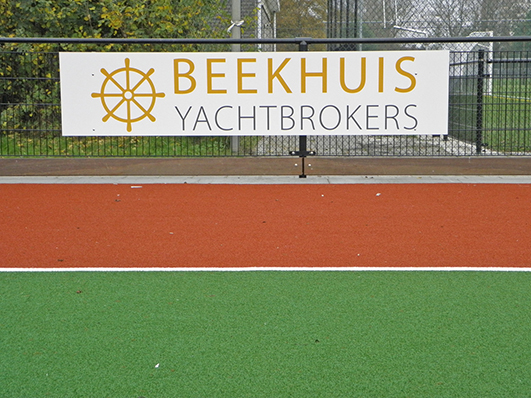 From the 2022-2023 season we are co-sponsor of the 4th women's team of hockey association G.H.B.S. which comes out in the highest reserve class in the Northern Netherlands.