Stevenvlet 1245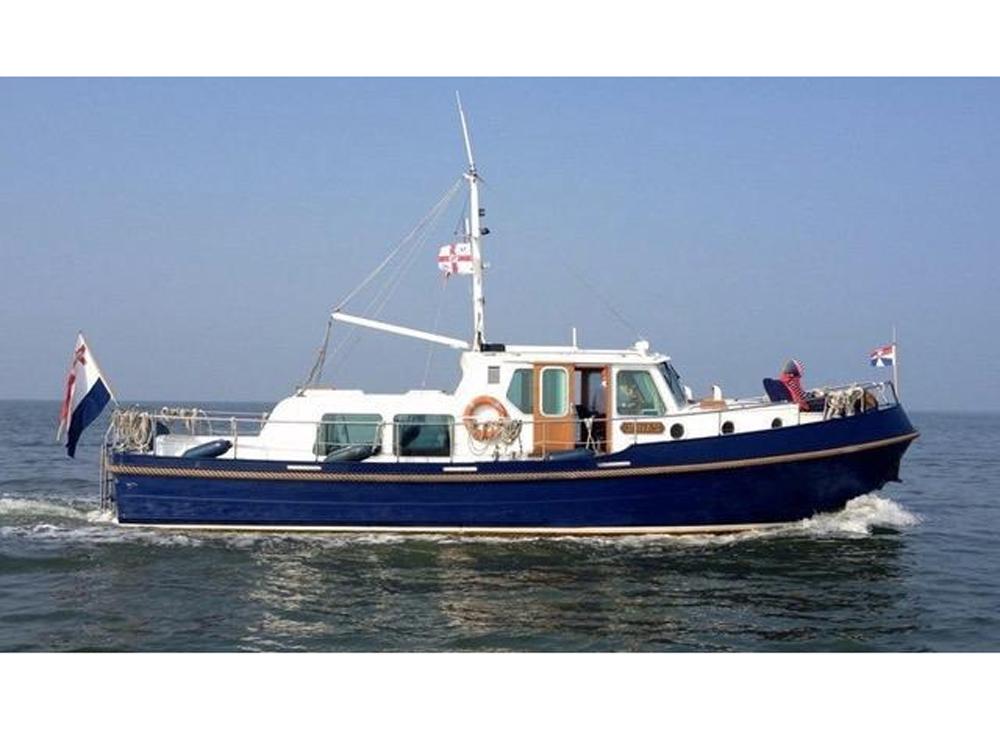 headingdetails Stevenvlet 1245
€ 198,000
Sleeping places
2 + 3
year built
2001
Berth
Medemblik
Category
Motor yacht
Contactperson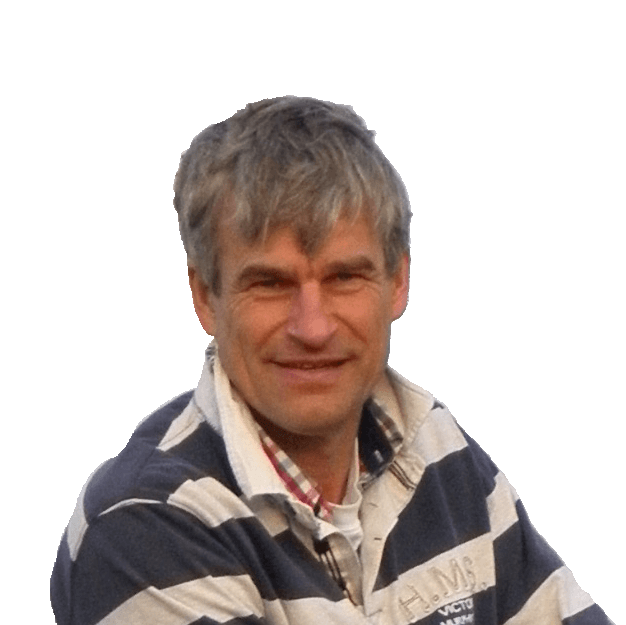 Willem Beekhuis
+316-19730566
Bow thruster, holding tank, shore power, central heating, separate shower, autopilot, etc. Beautiful motor yacht built for long journeys.
Dimensions
12,78 x 4,00 x 1,10 m.
Engine
Perkins Sabre 135 HP (99 kW) Diesel
Construction material
Steel
Reference number
232008
Construction material

Steel

Hull shape

Round bilged

Deck

Steel non skid; Cockpit teak on steel

Superstructure

Steel

Keel / leeboard

Bilge keels

Rudder

1 x

Steeringsystem

Hydraulic wheel steering

Windows

Rhigo double glazing with light tinted windows in aluminum frames and Wigo portholes in brass frames

Displacement

16,500 kg.

Airdraft

3.00 m.

Yard

SBM Scheepsbouwers Maritiem, Werkendam (Holland)

Designer

Th. Gillissen

Building number

961

CE-category

B
The shipyard's assignment was to build a comfortable 2-person motor yacht suitable for traveling to Scandinavia. This has resulted in this beautiful Stevenvlet 1245 where no expense has been spared in the construction.
This well-maintained motor yacht is suitable for long journeys through Europe with very good sailing characteristics on both large and inland waterways.
---
Material

Teak interior

Saloons

Wheel house, Fore ship, Aft cabin

Cabins

2

Berth

2 + 3

Headroom wheelhouse

1.95 m.

Headroom frontcabin

2.00 m.

Headroom aftcabin

1.95 m.

Bedsize front cabin

1.95 x 0.82 m. (2 x)

Bedsize aftcabin

2.00 x 1.10 m. (portside) and 2.00 x 0.58 m. (starboard)

Toilet

Toilet room with an electric toilet and sink

Shower

In a separate room with sink

Radio

Clarion Marine XMD3

Cooking device

Kenyon 2 - flame ceramic cooker

Microwave / combi oven

Siemens Combi

Refridgerator

Isotherm 130 litres

Heating

Kabola B series central heating

Washing machine

Eumenia Sparmeister (not operational)

Sliding hatch

In wheel house

Insulation

Yes
---
Brand / type

Perkins Sabre M135

Power

135 HP, 99 kW

Number of cylinders

6

Cooling system

Closed cooling

Year built

2001

Number of engines

1

Hours

3,525

Fuel

Diesel

Fueltank(s)

2 x 580 Litres steel

Tank meter

VDO

Gearbox

PRM hydraulic

Propulsion

Shaft

Thrust bearing

Yes

Cruising speed

7 Kn.

Max. speed

8 Kn.

Instruments

Tachometer, Watertemperature, Oilpressure (all VDO)

Bowthruster

Rheinstrom 24 Volt

Engine control

E.M.C. electronic
---
Voltage

12, 24 and 220 Volt

Batteries

2 x 130 Ah, 6 x 260 Ah

Shorepower

With earth leakage switch

Alternator

1 x 24 Volt

Batterycharger

Mastervolt Mass 24/50 50 A.

Inverter

Mastervolt Dakar Sine 24/3000 3,000 W.

Converter

Victron Orion 30 A. 24-12 Volt

Voltmeter

VDO
---
Watertank(s)

2 x 485 Litres stainless steel

Pressure system

Pressure barrel

Hot water

Rheinstrom 50 litres water heater (heated over engine, 220 Volt and central heating)

Freshwater meter

VDO

Holdingtank

285 Litres stainless steel with pump and deck outlet

Holdingtank meter

VDO
---
Type

Support sail

Mast

Brasker aluminium

Standing rig

Stainless steel

Boom

Brasker aluminium

Sails material

Dacron

Support sail

1 x
---
Anchor

1 x

Anchorwinch

Leroy Somer electric

Deckwash pump

With fresh water

Railing

Stainless steel on a steel bullwark

Schwimming ladder

Stainless steel with teak

Selfdraining cockpit

Yes

Other

With fender
---
Life raft

4 - Persons

Emergency tiller

Yes

Bilge pump

1 x Electric, 1 x hand

Wiper

3 x

Search light

Jabsco electrically operated

Fire prevention

2 x Fire extinguisher and automatic fire extinguishing system in engine room
---
View in 360 degrees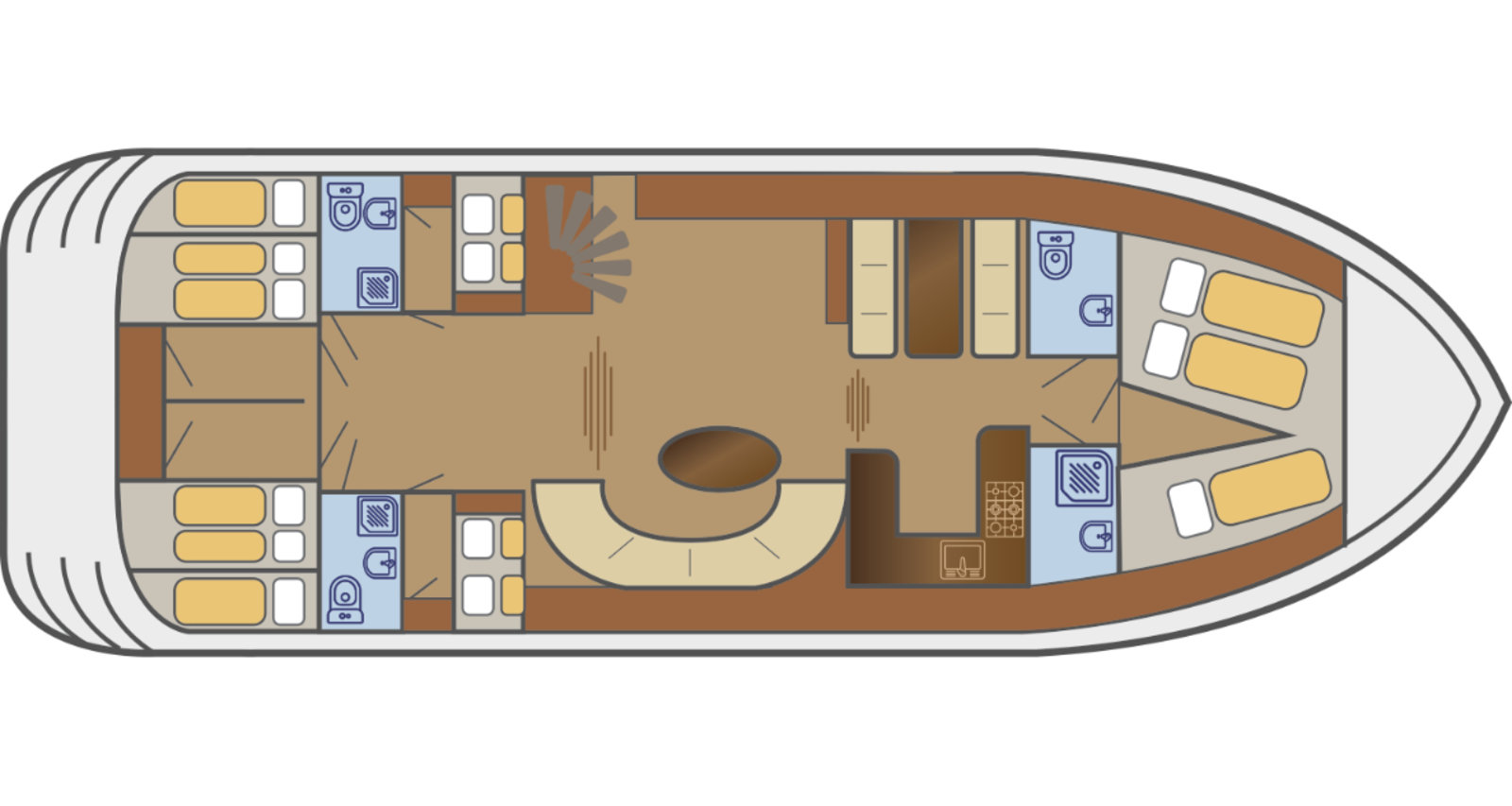 {"id":2148,"editor":{"tool":"select","shapeCounter":{"polys":8}},"general":{"name":"Stevenvlet1245","shortcode":"Stevenvlet1245","width":1600,"height":853,"naturalWidth":1600,"naturalHeight":853},"image":{"url":"https://www.fnma-charters.nl/previews/2022/1/13/media_304_62497_w1600_fit.jpg"},"tooltips":{"fullscreen_tooltips":"none"},"spots":[{"id":"poly-9647","title":"Poly 0","type":"poly","x":0.193,"y":18.569,"width":20.83,"height":62.089,"default_style":{"background_opacity":1},"mouseover_style":{"background_color":"#000000","background_opacity":1},"tooltip_content":{"squares_settings":{"containers":[{"id":"sq-container-750071","settings":{"elements":[{"settings":{"name":"Heading","iconClass":"fa fa-header"},"options":{"heading":{"text":"Kuip/cockpit"}}}]}}]}},"points":[{"x":100,"y":0.934573063193119},{"x":99.99942892296264,"y":100},{"x":43.06930693069307,"y":99.99931776166386},{"x":28.71287128712871,"y":99.37626905286847},{"x":15.841584158415841,"y":95.94950115449369},{"x":6.9306930693069315,"y":91.27663583852808},{"x":0,"y":84.73462439617624},{"x":0.4950495049504949,"y":16.51079078307846},{"x":4.9504950495049505,"y":8.722681923135791},{"x":15.841584158415841,"y":4.049816607170185},{"x":28.217821782178216,"y":0.934573063193119},{"x":45.54455445544555,"y":0}]},{"id":"poly-6654","title":"Poly 1","type":"poly","x":78.564,"y":21.277,"width":16.705,"height":56.866,"x_image_background":78.048,"y_image_background":21.277,"actions":{"click":"run-script","script":"https://www.beekhuisyachtbrokers.com/upload/aanbod360/stevenvlet-1245-ok/Voorschip.JPG"},"default_style":{"background_color":"#ff0000","background_opacity":1},"mouseover_style":{"background_opacity":1},"tooltip_content":{"squares_settings":{"containers":[{"id":"sq-container-172051","settings":{"elements":[{"settings":{"name":"Heading","iconClass":"fa fa-header"},"options":{"heading":{"text":"Voorschip/fore ship"}}}]}}]}},"points":[{"x":0,"y":0},{"x":20.36701453282327,"y":3.7415244691788723},{"x":42.59191211909619,"y":7.822442622956951},{"x":63.57936345234892,"y":13.605543524286801},{"x":80.86373333936979,"y":19.047760934001523},{"x":97.53080430185422,"y":27.21108704857359},{"x":100,"y":72.10938067872006},{"x":86.42013576118472,"y":78.9126286348868},{"x":69.75306479870031,"y":85.37553051840761},{"x":50.61679813807019,"y":90.47659572702258},{"x":27.776025829234374,"y":95.91908184622194},{"x":1.2335962761401917,"y":100}]},{"id":"poly-4852","title":"Poly 2","type":"poly","x":70.005,"y":55.32,"width":8.559,"height":25.144,"actions":{"click":"run-script","script":"https://www.beekhuisyachtbrokers.com/upload/aanbod360/stevenvlet-1245-ok/Voorschip doucheruimte.JPG"},"default_style":{"background_color":"#ffaa00","background_opacity":1},"mouseover_style":{"background_opacity":1},"tooltip_content":{"squares_settings":{"containers":[{"id":"sq-container-562591","settings":{"elements":[{"settings":{"name":"Heading","iconClass":"fa fa-header"},"options":{"heading":{"text":"Doucheruimte/shower room"}}}]}}]}},"points":[{"x":1.2056677162688425,"y":1.5351440302373094},{"x":98.79237741564624,"y":0},{"x":100,"y":90.00195545049901},{"x":63.85944973062373,"y":95.38277520427224},{"x":24.09963634933692,"y":98.46317129761758},{"x":0,"y":100}]},{"id":"poly-413","title":"Poly 3","type":"poly","x":70.005,"y":19.149,"width":8.351,"height":25.532,"actions":{"click":"run-script","script":"https://www.beekhuisyachtbrokers.com/upload/aanbod360/stevenvlet-1245-ok/Voorschip toiletruimte.JPG"},"default_style":{"background_color":"#ffaa00","background_opacity":1},"mouseover_style":{"background_opacity":1},"tooltip_content":{"squares_settings":{"containers":[{"id":"sq-container-94291","settings":{"elements":[{"settings":{"name":"Heading","iconClass":"fa fa-header"},"options":{"heading":{"text":"Toiletruimte/toilet room"}}}]}}]}},"points":[{"x":0,"y":99.24301819685135},{"x":1.2262324599147538,"y":0},{"x":33.32990548281187,"y":3.786840845486888},{"x":60.498469684773035,"y":5.301402940214564},{"x":100,"y":9.089902886540013},{"x":98.76949430750975,"y":100}]},{"id":"poly-2019","title":"Poly 4","type":"poly","x":52.887,"y":18.762,"width":16.911,"height":62.089,"actions":{"click":"run-script","script":"https://www.beekhuisyachtbrokers.com/upload/aanbod360/stevenvlet-1245-ok/Stuurhuis.JPG"},"default_style":{"background_color":"#bb5500","background_opacity":1},"mouseover_style":{"background_opacity":1},"tooltip_content":{"squares_settings":{"containers":[{"id":"sq-container-350051","settings":{"elements":[{"settings":{"name":"Heading","iconClass":"fa fa-header"},"options":{"heading":{"text":"Stuurhuis/wheel house"}}}]}}]}},"points":[{"x":0.004792302030281299,"y":0.6228068535825558},{"x":81.09813141967604,"y":0},{"x":100,"y":0.6230529595015587},{"x":98.78118263148511,"y":99.06542056074767},{"x":82.9274125795184,"y":100},{"x":0,"y":99.68847352024922}]},{"id":"poly-1617","title":"Poly 5","type":"poly","x":70.005,"y":44.875,"width":8.455,"height":10.058,"x_image_background":70.211,"y_image_background":44.875,"actions":{"click":"run-script","script":"https://www.beekhuisyachtbrokers.com/upload/aanbod360/stevenvlet-1245-ok/Voorschip hal.JPG"},"default_style":{"background_color":"#0000dd","background_opacity":1},"mouseover_style":{"background_opacity":1},"tooltip_content":{"squares_settings":{"containers":[{"id":"sq-container-822331","settings":{"elements":[{"settings":{"name":"Heading","iconClass":"fa fa-header"},"options":{"heading":{"text":"Hal/hall"}}}]}}]}},"points":[{"x":0,"y":0},{"x":98.77753662494347,"y":1.9173977760939171},{"x":100,"y":100},{"x":1.2168355435536402,"y":98.07535202870845}]},{"id":"poly-7393","title":"Poly 6","type":"poly","x":37.316,"y":18.956,"width":15.261,"height":61.702,"actions":{"click":"run-script","script":"https://www.beekhuisyachtbrokers.com/upload/aanbod360/stevenvlet-1245-ok/Achterkajuit 1.JPG"},"default_style":{"background_color":"#008840","background_opacity":1},"mouseover_style":{"background_opacity":1},"tooltip_content":{"squares_settings":{"containers":[{"id":"sq-container-338981","settings":{"elements":[{"settings":{"name":"Heading","iconClass":"fa fa-header"},"options":{"heading":{"text":"Achterkajuit salon/aft cabin saloon"}}}]}}]}},"points":[{"x":0,"y":0.3125454545454571},{"x":99.99844110188242,"y":0},{"x":100,"y":99.68583385579936},{"x":0.6721005461403403,"y":100}]},{"id":"poly-4041","title":"Poly 7","type":"poly","x":21.538,"y":18.762,"width":15.468,"height":62.283,"actions":{"click":"run-script","script":"https://www.beekhuisyachtbrokers.com/upload/aanbod360/stevenvlet-1245-ok/Achterkajuit 2.JPG"},"default_style":{"background_color":"#008840","background_opacity":1},"mouseover_style":{"background_opacity":1},"tooltip_content":{"squares_settings":{"containers":[{"id":"sq-container-317271","settings":{"elements":[{"settings":{"name":"Heading","iconClass":"fa fa-header"},"options":{"heading":{"text":"Achterkajuit salon/aft cabin saloon"}}}]}}]}},"points":[{"x":0.002307080260511636,"y":0},{"x":99.33258481395991,"y":0.6216014178964431},{"x":100,"y":99.68919929105178},{"x":0,"y":100}]}]}
Achterkajuit salon (12.58Mb)
Achterkajuit salon (12.5Mb)
Machinekamer (11.16Mb)
Stuurhuis (11.95Mb)
Voorschip (12.63Mb)
Voorschip doucheruimte (11.57Mb)
Voorschip hal (12.62Mb)
Voorschip toiletruimte (10.99Mb)
Berth