Dehler 31 Top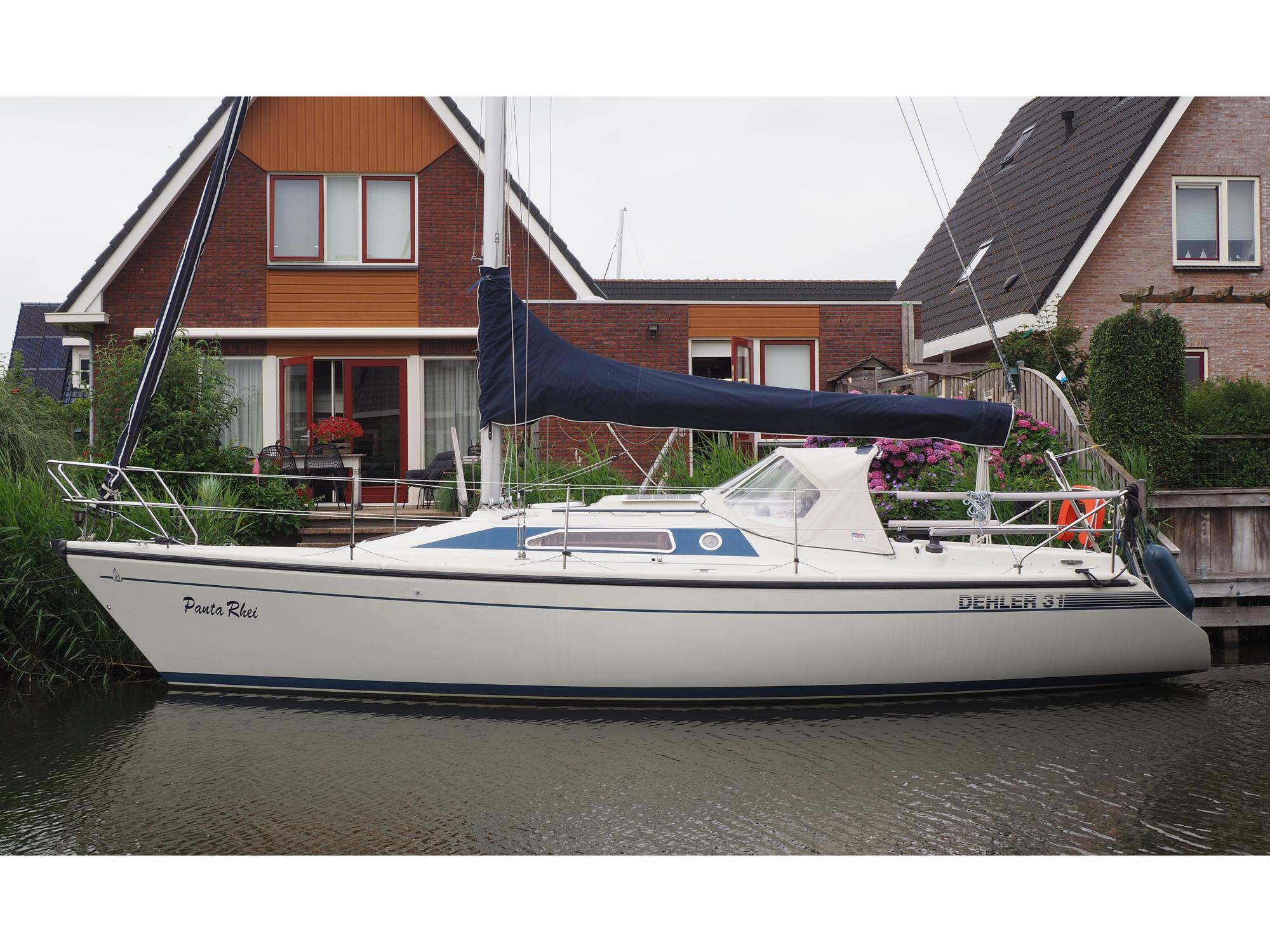 headingdetails Dehler 31 Top
€ 34,500
Sleeping places
4 + 2
year built
1991
Berth
Workum
Category
Sailing yacht
Contactperson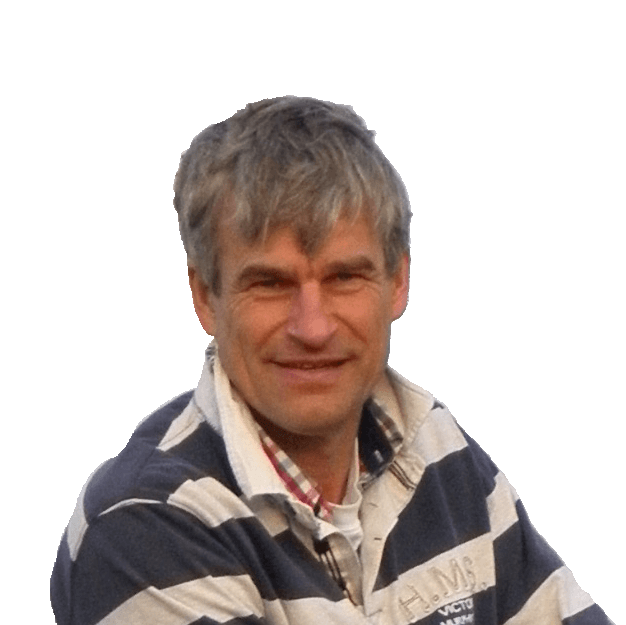 Willem Beekhuis
+316-19730566
Shore power, battery charger, plotter, etc. Very nice Dehler 31 Top with shallow keel of 1.10 m. MUST SEE!
Dimensions
9,40 x 3,05 x 1,10 m.
Engine
Yanmar 18 HP (13 kW) Diesel
Construction material
GRP
Reference number
211039
Construction material

GRP

Hull shape

Round bilged

Deck

GRP non skid

Superstructure

GRP

Keel / leeboard

Fin keel

Rudder

1 x

Steeringsystem

Tiller

Windows

In aluminium frames

Displacement

3,200 kg.

Ballast

1,300 kg.

Airdraft

13.50 m.

Yard

Dehler Yachtbau GMBH, Freienohl (Germany)

Designer

E.G. van de Stadt & Partners

Building number

400792
Very well maintained Dehler 31 Top with a mahogany interior and the shallow 1.10 m. keel. With this keel a very large sailing area is accessible and makes it an ideal family yacht.
---
Material

Mahogany interior

Saloons

Saloon, Fore ship

Cabins

3

Berth

4 + 2

Headroom

1.90 m.

Bedsize front cabin

2.45 x 0,.5 m. (portside); 2.45 x 0.60 m. (starboard)

Bedsize aftcabin

1.95 x 1.60 m.

Bedsize saloon

1.95 x 0.74 m. (portside and starboard)

Toilet

Toilet room with a Jabsco pump toilet and sink

Television

Lenco

Radio

Sony radio-cassette player with a Sony 10 CD exchanger

Cooking device

ENO 3 - flame gas cooker with oven

Refridgerator

55 Litres built in cooling box with Waeco compressor

Heating

Webasto
---
Brand / type

Yanmar 2GM20

Power

18 HP, 13 kW

Number of cylinders

2

Cooling system

Seawater cooled

Year built

1991

Hours

1,795

Fuel

Diesel

Fueltank(s)

60 Litres

Tank meter

VDO

Gearbox

Kanzaki mechanical

Propulsion

Shaft

Instruments

Tachometer
---
Voltage

12 Volt

Batteries

1 x 60 Ah, 1 x 220 Ah

Shorepower

Yes

Alternator

1 x 12 Volt

Batterycharger

18 A.

Solar panel

1 x

Control panel

Switch panel
---
Watertank(s)

90 Litres synthetic

Waterpressure system

Electrical
---
Type

Fractional

Mast

Aluminium

Standing rig

Stainless steel

Boom

Aluminium

Winches

2 x Lewmar 30 ST, 2 x Lewmar 16 ST

Sails material

Dacron

Mainsail

Elvstrom fully battened

Mainsail furling system

Quick reefing

Genoa

Approx. 5 years old

Genoa furling system

Furlex furling

Jib

1 x

Spinnaker

Champion Sails

Spinnaker boom

Aluminium
---
Anchor

1 x

Railing

Stainless steel with stainless steel wire

Schwimming ladder

Stainless steel

Sprayhood

With a stainless steel frame (2019)

Cover

Cockpit cover with a stainless steel frame (2019)

Cockpit table

Yes

Selfdraining cockpit

Yes
---
Bilge pump

1 x Hand

Fire prevention

1 x Fire extinguisher

Gas locker

Suitable for 1 bottle
---
View in 360 degrees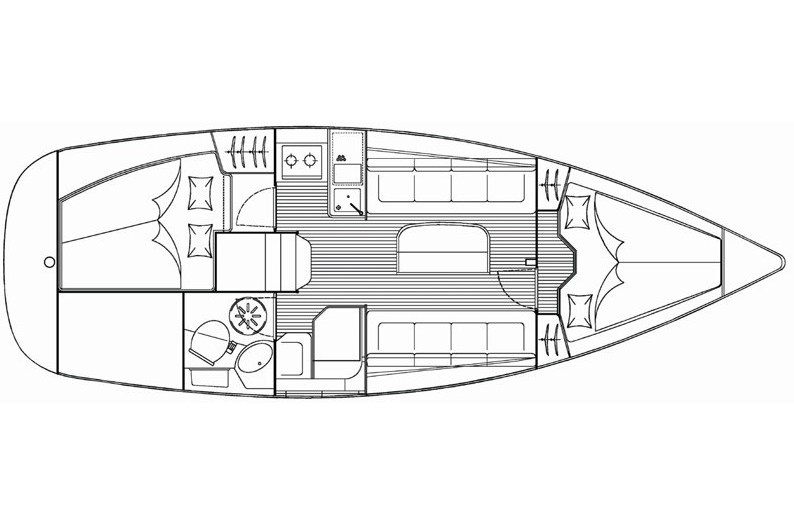 {"id":3397,"editor":{"tool":"select","shapeCounter":{"polys":9}},"general":{"name":"Dehler31Top","shortcode":"Dehler31Top","width":794,"height":528,"naturalWidth":794,"naturalHeight":528},"image":{"url":"https://zeilersforum.nl/mediawiki//images/6/62/Bavaria-30-cruiser-indeling.jpg"},"tooltips":{"fullscreen_tooltips":"none"},"spots":[{"id":"poly-2922","title":"Poly 0","type":"poly","x":67.621,"y":29.788,"width":23.409,"height":39.458,"x_image_background":67.621,"y_image_background":29.788,"actions":{"click":"run-script","script":"https://www.beekhuisyachtbrokers.com/upload/aanbod360/dehler-31-top/Voorschip.JPG"},"default_style":{"background_color":"#ff0000","background_opacity":1},"mouseover_style":{"background_opacity":1},"tooltip_content":{"squares_settings":{"containers":[{"id":"sq-container-809581","settings":{"elements":[{"settings":{"name":"Heading","iconClass":"fa fa-header"},"options":{"heading":{"text":"Voorschip/fore ship"}}}]}}]}},"points":[{"x":0,"y":0},{"x":34.61594022975494,"y":7.843137254901965},{"x":62.088908666068335,"y":17.156862745098046},{"x":99.45214573945462,"y":32.843137254901954},{"x":100,"y":66.17685784313726},{"x":70.33079919696237,"y":78.43029901960783},{"x":42.85783076064897,"y":89.2156862745098},{"x":0.5483977674376175,"y":100}]},{"id":"poly-106","title":"Poly 1","type":"poly","x":40.145,"y":24.565,"width":26.961,"height":50.484,"x_image_background":40.145,"y_image_background":24.565,"actions":{"click":"run-script","script":"https://www.beekhuisyachtbrokers.com/upload/aanbod360/dehler-31-top/Salon 2.JPG"},"default_style":{"background_color":"#66aaff","background_opacity":1},"mouseover_style":{"background_opacity":1},"tooltip_content":{"squares_settings":{"containers":[{"id":"sq-container-635091","settings":{"elements":[{"settings":{"name":"Heading","iconClass":"fa fa-header"},"options":{"heading":{"text":"Salon/saloon"}}}]}}]}},"points":[{"x":21.283665466858615,"y":0},{"x":46.090606304933054,"y":0.7671156396012827},{"x":66.60480036588773,"y":3.449083623263653},{"x":83.77947446343119,"y":5.7479133235456885},{"x":100,"y":8.813019590588395},{"x":100,"y":88.50494346085821},{"x":85.68592809084828,"y":91.95432976336572},{"x":64.21801324552375,"y":95.01859695756782},{"x":38.934897809542655,"y":98.08430858309835},{"x":0.2927366432795881,"y":100},{"x":0,"y":62.393067357082046},{"x":22.02410508962481,"y":62.61122245804751}]},{"id":"poly-7585","title":"Poly 2","type":"poly","x":34.177,"y":23.599,"width":11.447,"height":31.915,"x_image_background":33.792,"y_image_background":23.599,"actions":{"click":"run-script","script":"https://www.beekhuisyachtbrokers.com/upload/aanbod360/dehler-31-top/Salon 1.JPG"},"default_style":{"background_color":"#66aaff","background_opacity":1},"mouseover_style":{"background_opacity":1},"tooltip_content":{"squares_settings":{"containers":[{"id":"sq-container-700341","settings":{"elements":[{"settings":{"name":"Heading","iconClass":"fa fa-header"},"options":{"heading":{"text":"Salon/saloon"}}}]}}]}},"points":[{"x":0,"y":0},{"x":42.70033710605173,"y":0},{"x":96.63654548055052,"y":1.2134289964433842},{"x":100,"y":99.39490668786236},{"x":41.587551338493626,"y":100},{"x":1.1236930817382296,"y":99.39214309588367}]},{"id":"poly-1512","title":"Poly 5","type":"poly","x":22.73,"y":55.32,"width":17.236,"height":19.535,"x_image_background":22.73,"y_image_background":55.32,"actions":{"click":"run-script","script":"https://www.beekhuisyachtbrokers.com/upload/aanbod360/dehler-31-top/Toiletruimte.JPG"},"default_style":{"background_color":"#ffaa00","background_opacity":1},"mouseover_style":{"background_opacity":1},"tooltip_content":{"squares_settings":{"containers":[{"id":"sq-container-623251","settings":{"elements":[{"settings":{"name":"Heading","iconClass":"fa fa-header"},"options":{"heading":{"text":"Toiletruimte/toilet room"}}}]}}]}},"points":[{"x":98.5074737041588,"y":4.945552025067007},{"x":100,"y":100},{"x":44.77860353107966,"y":98.02111778032506},{"x":0.7419031054789162,"y":93.06610997361197},{"x":0,"y":0.9879658098738255},{"x":36.56689424811275,"y":0}]},{"id":"poly-3028","title":"Poly 7","type":"poly","x":7.295,"y":23.598,"width":26.625,"height":30.948,"x_image_background":7.295,"y_image_background":23.598,"width_image_background":26.625,"height_image_background":30.948,"actions":{"click":"run-script","script":"https://www.beekhuisyachtbrokers.com/upload/aanbod360/dehler-31-top/Achterkajuit.JPG"},"default_style":{"background_color":"#ff0000","background_opacity":1},"mouseover_style":{"background_opacity":1},"tooltip_content":{"squares_settings":{"containers":[{"id":"sq-container-811101","settings":{"elements":[{"settings":{"name":"Heading","iconClass":"fa fa-header"},"options":{"heading":{"text":"Achterkajuit/aft cabin"}}}]}}]}},"points":[{"x":99.03616563635825,"y":0},{"x":100,"y":99.99726248956325},{"x":1.4506796620098281,"y":100},{"x":0,"y":16.249186950025248},{"x":35.266943188963104,"y":7.499647342405503},{"x":70.5324751527858,"y":1.8746258970112377}]}]}
Achterkajuit (10.83Mb)
Salon (10.07Mb)
Salon (9.84Mb)
Toiletruimte (10.99Mb)
Voorschip (10.98Mb)
Berth