Rondspant Klassiek Motorjacht 1160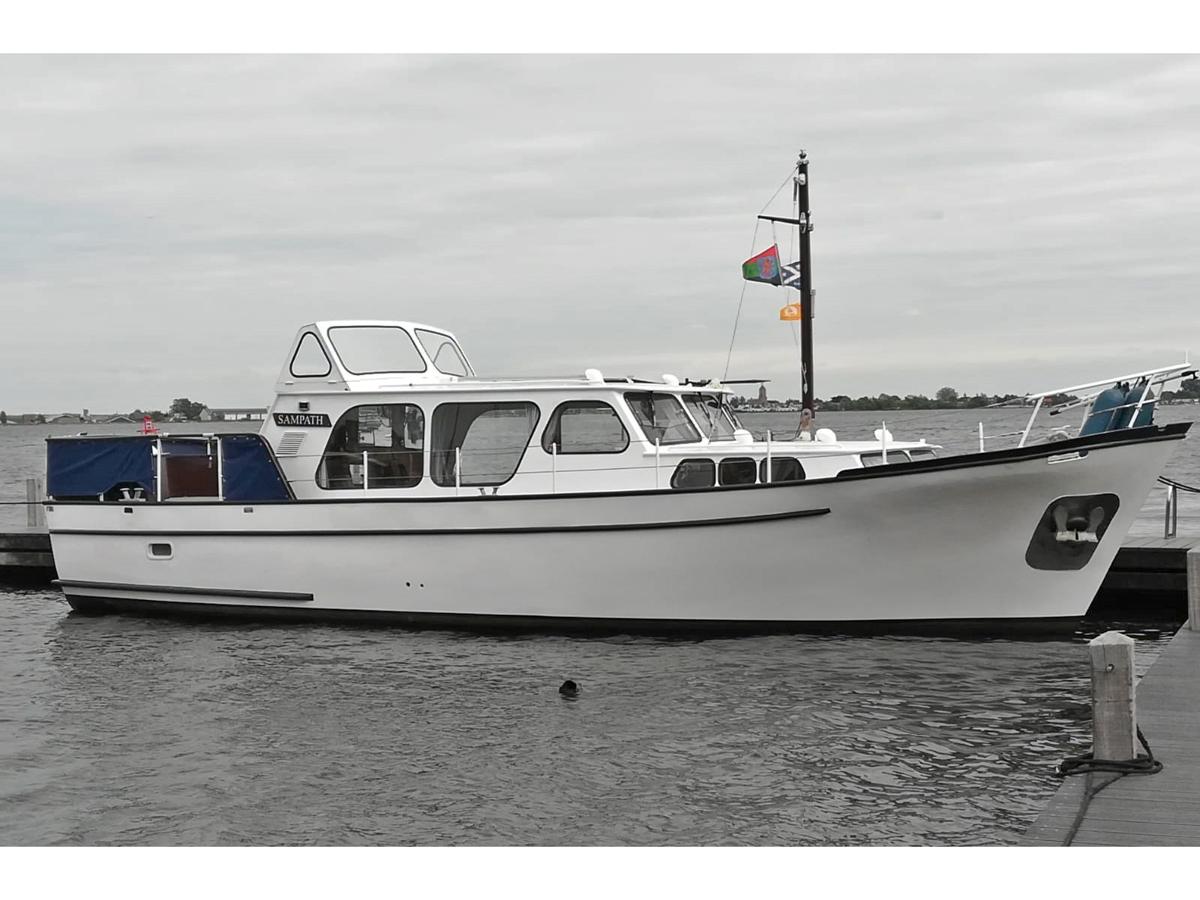 headingdetails Rondspant Klassiek Motorjacht 1160
€ 61,500
Sleeping places
4 + 1
year built
1975
Berth
Aalsmeer
Category
Motor yacht
Contactperson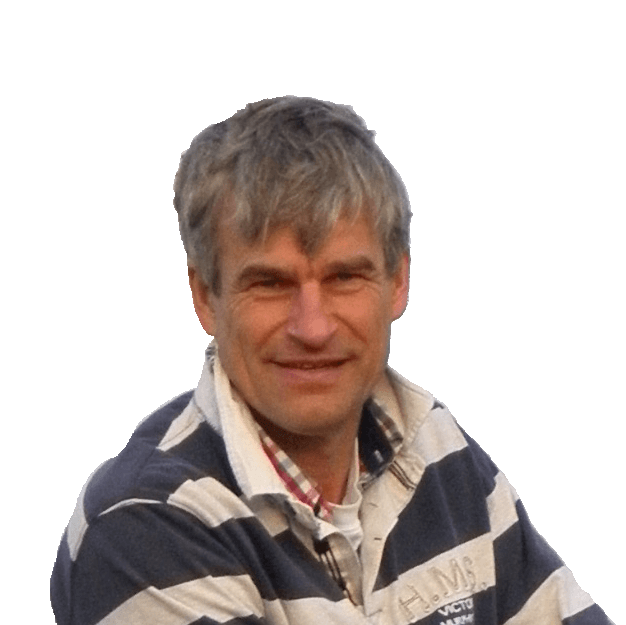 Willem Beekhuis
+316-19730566
Engine from 2016! Bow thruster, holdingtank, shore power, water heater, shower, etc. Beautiful round bilged motor yacht with many recent technology.
Dimensions
11,60 x 3,40 x 1,10 m.
Engine
Solé 95 HP (70 kW) Diesel
Construction material
Steel
Reference number
212008
Construction material

Steel

Hull shape

Round bilged

Deck

Steel non skid; aftdeck teak on steel (2009)

Superstructure

Steel

Keel / leeboard

Bilgekeels

Rudder

1 x

Steeringsystem

Mechanic double wheel steering

Windows

Partly in rubber (renewed in 2019), partly in aluminum

Displacement

16,000 kg.

Airdraft

2.40 m.
The Rondspant Klassiek Motorjacht 1160 is a beautifully lined and very spacious motor yacht with good sailing characteristics. With a airdraft of only 2.40 m, the Rondspant Klassiek Motorjacht 1160 has a very large sailing area.
The last 10 years a lot has been renewed, this means the motor yacht is technically up to date:
Solé SM-105 engine with gearbox;
Holding tank;
Victron battery charger / inverter;
Heating;
Bow thruster;
Refrigerator;
etc.
The motor yacht is in a shed every winter. The Rondspant Klassiek Motorjacht 1160 is ready for years of carefree sailing pleasure!
---
Material

Mahogany interior

Saloons

Wheelhouse, Fore ship with guest cabin, Aft cabin with owner's cabin

Cabins

3

Berth

4 + 1

Headroom wheelhouse

1.95 m.

Headroom frontcabin

1.95 m.

Headroom aftcabin

1.95 m.

Bedsize front cabin

2.12 x 0.70 m. (2 x)

Bedsize aftcabin

1.95 x 1.00 m. (2 x)

Bedsize wheelhouse

2.00 x 0.50 m.

Toilet

Toilet roomte with an electrical toilet (2019)

Shower

In toilet room

Television

JVC flatscreen

Radio

JVC radio-CD player

Cooking device

2 - Flame gas cooker

Refridgerator

Waeco 110 litres (2016)

Heating

Eberspächer Air Tronic D5 4.8 kW
---
Brand / type

Solé SM-105

Power

95 HP, 70 kW

Number of cylinders

6

Cooling system

Intercooling

Year built

2016

Number of engines

1

Hours

760

Fuel

Diesel

Fueltank(s)

2 x 500 Litres steel

Tank meter

Yes

Gearbox

Technodrive hydraulic (2016)

Propulsion

Shaft (2015)

Cruising speed

7 Kn.

Max. speed

8 Kn.

Instruments

2 x Tachometer (of which 1 x VDO), 2 x Watertemperature, 2 x Oilpressure

Bowthruster

Vetus 95 kgf (2010)
---
Voltage

12 and 220 Volt

Batteries

3 x 220 Ah

Shorepower

With earth leakage switch

Alternator

1 x 12 Volt

Batterycharger

Victron Phoenix Multi 12/3000/120 120 A. (2016)

Solar panel

2 x (2016)

Inverter

Victron Phoenix Multi 12/3000/120 3,000 W. (2016)

Diode bridge

Victron Cyrix-i

Battery-conditionmeter

Victron BMV-600
---
Watertank(s)

2 x 500 Litres steel

Waterpressure system

Electrical

Warm water

Truma 14 litres waterheater (heated by gaz and 220 Volt)

Freshwater meter

Yes

Holdingtank

130 Litres with deck drain and pump
---
Anchor

1 x

Anchorwinch

Lofrans Tigres 1,500 W. electrical (2015)

Railing

Steel with stainless steel wire; round stern steel with mahogany

Davits

SBM

Winter cover

Over entire motor yacht

Upholstery

Yes

Other

Very spacious aft deck
---
Bilge pump

1 x Electrical

Wiper

3 x

Gas alarm

Vetus

Gas locker

2 Bottles
---
View in 360 degrees
{"id":1395,"editor":{"tool":"select","shapeCounter":{"polys":6}},"general":{"name":"RondspantKlassiekMotorjacht1160","shortcode":"RondspantKlassiekMotorjacht1160","width":640,"height":219,"naturalWidth":640,"naturalHeight":219},"image":{"url":"https://s3.amazonaws.com/static.yachtjourney.com/vessels/b390edc98f6e740eae3fab45385cf4f9.jpg"},"tooltips":{"fullscreen_tooltips":"none"},"spots":[{"id":"poly-885","title":"Poly 0","type":"poly","x":71.563,"y":11.415,"width":18.281,"height":81.279,"x_image_background":71.563,"y_image_background":11.415,"actions":{"click":"run-script","script":"https://www.beekhuisyachtbrokers.com/upload/aanbod360/rondspant-klassiek-motorjacht-1160-spiegelkotter/Voorschip gastenhut.JPG"},"default_style":{"background_color":"#ff0000","background_opacity":1},"mouseover_style":{"background_opacity":1},"tooltip_content":{"squares_settings":{"containers":[{"id":"sq-container-875451","settings":{"elements":[{"settings":{"name":"Heading","iconClass":"fa fa-header"},"options":{"heading":{"text":"Gastenhut/guests cabin"}}}]}}]}},"points":[{"x":0,"y":0},{"x":27.248216777873484,"y":3.222625621276528},{"x":49.80053628373069,"y":7.622071986007881},{"x":73.4364759698229,"y":13.684377111728027},{"x":99.1411965811966,"y":23.03425709625404},{"x":100,"y":75.28036536288475},{"x":83.19320001975177,"y":84.25334053427295},{"x":54.39201309326533,"y":92.60682539798816},{"x":28.386172162360328,"y":97.94159740601343},{"x":1.7052991452991644,"y":100}]},{"id":"poly-1661","title":"Poly 1","type":"poly","x":57.5,"y":38.813,"width":13.593,"height":55.708,"x_image_background":57.5,"y_image_background":38.813,"actions":{"click":"run-script","script":"https://www.beekhuisyachtbrokers.com/upload/aanbod360/rondspant-klassiek-motorjacht-1160-spiegelkotter/Voorschip.JPG"},"default_style":{"background_color":"#0000dd","background_opacity":1},"mouseover_style":{"background_opacity":1},"tooltip_content":{"squares_settings":{"containers":[{"id":"sq-container-62591","settings":{"elements":[{"settings":{"name":"Heading","iconClass":"fa fa-header"},"options":{"heading":{"text":"Voorschip/fore ship"}}}]}}]}},"points":[{"x":0,"y":0.8194797778403798},{"x":56.333407582071516,"y":0.07995546781454739},{"x":95.40572353417191,"y":0},{"x":100,"y":97.54056067115096},{"x":52.92079554404394,"y":98.72027296162808},{"x":0,"y":100}]},{"id":"poly-4494","title":"Poly 2","type":"poly","x":29.531,"y":8.219,"width":27.656,"height":86.464,"actions":{"click":"run-script","script":"https://www.beekhuisyachtbrokers.com/upload/aanbod360/rondspant-klassiek-motorjacht-1160-spiegelkotter/Stuurhuis.JPG"},"default_style":{"background_color":"#bb5500","background_opacity":1},"mouseover_style":{"background_opacity":1},"tooltip_content":{"squares_settings":{"containers":[{"id":"sq-container-918331","settings":{"elements":[{"settings":{"name":"Heading","iconClass":"fa fa-header"},"options":{"heading":{"text":"Stuurhuis/wheel house"}}}]}}]}},"points":[{"x":1.129933288738633,"y":1.5843171686045876},{"x":53.667352893063416,"y":0.24271309446715936},{"x":99.43593730226166,"y":0},{"x":100,"y":99.81186015777274},{"x":61.587116864271565,"y":100},{"x":0,"y":98.7554902803195}]},{"id":"poly-1863","title":"Poly 3","type":"poly","x":2.114,"y":9.589,"width":19.292,"height":83.561,"x_image_background":2.114,"y_image_background":9.589,"actions":{"click":"run-script","script":"https://www.beekhuisyachtbrokers.com/upload/aanbod360/rondspant-klassiek-motorjacht-1160-spiegelkotter/Eigenaarshut 2.JPG"},"default_style":{"background_color":"#ff0000","background_opacity":1},"mouseover_style":{"background_opacity":1},"tooltip_content":{"squares_settings":{"containers":[{"id":"sq-container-2571","settings":{"elements":[{"settings":{"name":"Heading","iconClass":"fa fa-header"},"options":{"heading":{"text":"Eigenaarshut/owners cabin"}}}]}}]}},"points":[{"x":100,"y":0.546160051720368},{"x":13.339846141178791,"y":0},{"x":4.0532014765221245,"y":26.407215305926023},{"x":0,"y":51.3840917066098},{"x":5.017631765894998,"y":77.35874756298111},{"x":11.722597703582586,"y":98.90710065990899},{"x":98.3827515624038,"y":100}]},{"id":"poly-3636","title":"Poly 4","type":"poly","x":57.5,"y":8.676,"width":13.282,"height":29.224,"x_image_background":57.5,"y_image_background":8.676,"actions":{"click":"run-script","script":"https://www.beekhuisyachtbrokers.com/upload/aanbod360/rondspant-klassiek-motorjacht-1160-spiegelkotter/Voorschip toilet doucheruimte.JPG"},"default_style":{"background_color":"#ffaa00","background_opacity":1},"mouseover_style":{"background_opacity":1},"tooltip_content":{"squares_settings":{"containers":[{"id":"sq-container-476541","settings":{"elements":[{"settings":{"name":"Heading","iconClass":"fa fa-header"},"options":{"heading":{"text":"Toilet doucheruimte/toilet shower room"}}}]}}]}},"points":[{"x":0,"y":100},{"x":0.005646952527979378,"y":0},{"x":100,"y":3.1236884827102367},{"x":100,"y":99.9995312521973}]},{"id":"poly-3519","title":"Poly 5","type":"poly","x":21.407,"y":9.589,"width":7.97,"height":83.562,"actions":{"click":"run-script","script":"https://www.beekhuisyachtbrokers.com/upload/aanbod360/rondspant-klassiek-motorjacht-1160-spiegelkotter/Eigenaarshut 1.JPG"},"default_style":{"background_color":"#ff0000","background_opacity":1},"mouseover_style":{"background_opacity":1},"tooltip_content":{"squares_settings":{"containers":[{"id":"sq-container-374251","settings":{"elements":[{"settings":{"name":"Heading","iconClass":"fa fa-header"},"options":{"heading":{"text":"Eigenaarshut/owners cabin"}}}]}}]}},"points":[{"x":0,"y":99.45281053723322},{"x":1.9637367463454125,"y":0},{"x":100,"y":0.5468998462300132},{"x":99.99372608068258,"y":100}]}]}
Eigenaarshut (10.51Mb)
Eigenaarshut (11.25Mb)
Stuurhuis (11.63Mb)
Voorschip (12.36Mb)
Voorschip gastenhut (11.69Mb)
Voorschip toilet doucheruimte (10.94Mb)
Berth