02-12-2018

58th edition Nautic Paris in 2018 with plenty of entertainment
On Saturday, December 8th at 10:00 am will open the doors of the Paris International Boat Show. Each year the Nautic Paris brings together all the different elements of the maritime industry: for 9 days it is France's largest indoor harbor. The 58th edition will be offering new functions, innovation is central. The organization provides a summary of the highlights.
New features
For the 2018 edition of the Nautic offers show three elements to emphasize innovation again. To begin with there will be a showcase area with a selection of innovative products and services that are exhibited in Hall 1. These products have recently entered the market or are already on the market with a view to improving and developing maritime practices.
Secondly, will see a new part daylight: an exhibition focused on the future. In September a tender for architects, designers and students on the theme "How the navigation of tomorrow look like?" The best projects, selected for their daring, technical innovation, accessibility and realism, are exhibited in hall 1.
Another important new feature of the show is the Nautic Hackathon. A special theme, "What does your water sports like in 2030?", Offers candidates exactly 24 hours to give answers. This is Friday, December 14th 15:00 pm to 15:00 pm Saturday, December 15th. Boat Paris will host the teams of 4 to 5 candidates. Participants will exhibit their innovative sports project to a jury of experts chaired by the French sailing legend Michel Desjoyeaux.
My first motorboat
"My first motorboat. Get away for less than € 25,000. " Due to the success of the 2017 structure to enable visitors to certain sailboats both inside and outside view, this year will be extended this concept with motorboats.
Lessons work on your boat
The refit room trains - in collaboration with USHIP - visitors to the show in the art of ship repairs. Throughout the week will undergo a wooden motorboat from the sixties a complete refit. Come and witness the work being undertaken. Who would even help. The teams of Navy Classic, a Parisian yard specializing in refitwerk, is at your disposal.
Highlights
More hightlights: Boat Paddle : The Greatest Stand-Up Paddle race in the world. On Sunday, December 9th collects this 9th edition 800 participants in the Seine. There are two classes: the professionals and leisure suppers. This year is also the last stage of the APP World Tour, which will be contested for the first time in Paris. And to continue the festivities, a team relay will be held in the heart of the show at Nautic location.
Fishing Boat Street: 3rd edition. This urban "no-kill" -viswedstrijd will gather on Saturday, December 15th sets anglers along the banks of the Seine.
The Nautic Spot: boardsports and beach experience in the heart of the show. This place is a three star attractions. Firstly, there is a pool of 700m2 where visitors can participate in wakeboarding and stand-up paddle routes. Also visitors can supervised by teams from the UCPA, try 'the wave'. Finally, there is a "beach" where demonstrations and beginners sessions in beach volleyball, beach handball and beach tennis will be organized.
Welcome aboard: the chance to visit five yachts and to admire the famous Pen Duick yacht. This part of the program proved a big hit last year. What Pen Duick concerned, there will be middle of the renovation will be built a walkway that visitors can get close to the French 'monument' which was placed in the historic registry in 2006.
Info & Advice: three special information points are distributed across the four halls where the boat show exists. There is advice on insurance, credit and choosing the right boat, tailored to their own needs. Visitors can contact the coaches of the INB (National Institute of Brittany) for a series of great training ideas of Macif Center de Voile (Macif Sailing Center) and entertainment. Finally, there is at the heart of Hall 1 an attraction where children learn to save lives with the SNSM (offshore rescue of France with lifeboats).
Award ceremony for the Route du Rhum - Destination Guadeloupe: Friday, December 14 from 6:00 to 20:00 at the Nautic Stage.
For more information: SALON NAUTIQUE PARIS
---
15-11-2018
Boot & Fun Berlin 2018 more diverse than ever
Boot & Fun Berlin keeps growing: never before have so many different types of boats, boat brands and models been shown. From 29 November to 2 December 2018, an enormous diversity is brought together in twelve different rooms.
After a summer of superlatives, the Boot & Fun Berlin follows: better than ever. Water sports enthusiasts and water tourists can prepare for the upcoming season here from 29 November to 2 December 2018. The Berlin show is considered one of the largest boat fairs for inland and coastal waters.
Boats for every use
Boot & Fun Berlin will start with its 'Gala der Boote' on Wednesday evening, 28 November 2018. After that, four more days will follow in which around 700 exhibitors from twelve countries will present their products and services. Visitors will find boats for every use here. Never before have visitors of the fair experienced so much diversity as this year.
Motor yachts: all sizes
Especially the supply of motor boats and yachts is strong. Well-known manufacturers such as Bavaria, Beneteau, Delphia, Galeon, Jeanneau, Marex and Sealine present themselves in hall 3 with their yachts of more than 30 feet. For the first time, the luxury yachts of the Cranchi shipyard from Italy can also be found here.
The range of sporty motor boats is also being considerably expanded. Particularly popular this year are the American boats from the brands Bayliner, Four Winns, SeaRay and Stingray. For everyone who wants to read the power of the engines at the bow wave, the brands Aqualine, B1-Yachts, Inter, Öchsner boats, Parker, Saver and Quicksilver are also presented in hall 4. For the first time Finnish boat builder Finnboat presents itself in hall 4 with his brands Terhi, Silver, AMT and Alucat. And there is more supply from Finland: the brands Bella, Flipper and Aquador are also expected.
In hall 2, in addition to charter ships, we also find the steel yachts of Gruno and Linssen yachts. Also here is the 'E-boat salon' situated with a large selection of electric boats and engines from all over Europe. In addition, there is a wide range of - mostly open - boats for the inland and harbor waters, which conquer the rivers and the lake landscape in and around Berlin. In addition to the Dutch brands Interboat, Maril and Antaris, iSloep is there for the first time.
Classics
"Classic Berlin" is the first and largest indoor exhibition in Germany for classic yachts, to be found in Hall 6.2a. Here you can admire a unique collection of classics, made of wood, chrome and riveted steel, such as Riva and Boesch or the 'forgotten' shipyards such as Engelbrecht or Beelitz. This year there will also be attention for bakdekkers.
Hoist the sails
Sailing enthusiasts go to hall 25 with an overview of yachts up to 35 feet, including the brands Bente, Sarch, First27, Karu Boats, Fricke & Dannhus, Pointer Yacht and Moira and the new models of the Hanse Group.Bavaria and Jeanneau can be found in hall 3.
Life on board
The dream of living on the water can also be experienced in Berlin. That is why Boot & Fun also presents houseboats and floating houses in hall 25. The Houseboat experts explain everything about planning, construction and finding a berth. For those who want to sell their boat "from private to private", the used boat market in Hall 1.2 is exactly what you are looking for.
Dingies and fishing boats
The 'AngelBoot Berlin' had a successful premiere last year. So successful that this fish fair is presented this year on a doubled exhibition space and its duration has been extended to the duration of Boot & Fun Berlin. Leading manufacturers of aluminum fishing boats will present themselves here. In addition to the AngelBoot Berlin in hall 23, AngelWorld Berlin is located in hall 21 and 22. This is the first time that three rooms will be cleared for the trend theme of fishing.
Read more about the fair on the site: BOOT & FUN BERLIN
---
19-09-2018
The motto for your HAMBURG BOAT SHOW, "By boaters for boaters", is reflected in the trade fair halls: Anyone who is in their element on the water like you will feel at home here too.
We present the latest products, trends and developments on over 30,000 square metres and in three large halls. The trade fair showcases all aspects of water sports in a stylish setting. No matter how old you are, whether a beginner or a pro, surfer, sailor or motor boat enthusiast: there is something for everybody here.
The expertise at the trade fair is one thing – but we offer you so much more than that: unique experiences and emotions. In spite of all the technical advances and innovation – in the end it is the passion we share for water sports that connects us as organisers and you as exhibitors and visitors to this event.
Let yourself to be spirited away on the wave of excitement carrying our new trade fair in the north and become part of the community. We can accomplish a lot together – and set a lot of things in motion. We look forward to seeing you!
The HAMBURG BOAT SHOW takes place in Hamburg from Wednesday, October 17 to Sunday, October 21, 2018. The fair is open for dealer and consumer. In parallel, the "Hamburg Motor Classics" will take place from Friday, October 19 to Sunday, October 21.
Opening hours
Wednesday, October 17th 2018 10.00 a.m to 6.00 p.m
Thursday, October 18th 2018 10.00 a.m to 6.00 p.m
Friday, October 19th 2018 10.00 a.m to 8.00 p.m
Saturday, October 20th 2018 10.00 a.m to 6.00 p.m
Sunday, October 21st 2018 10.00 a.m to 6.00 p.m
Here is the link to the site: HAMBURG BOAT SHOW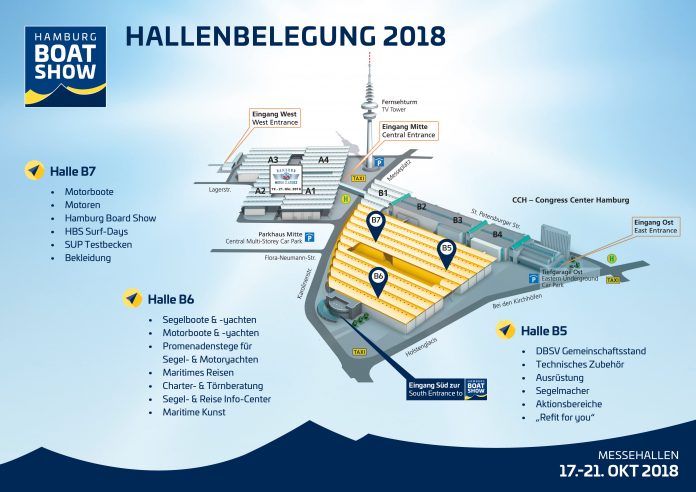 ---